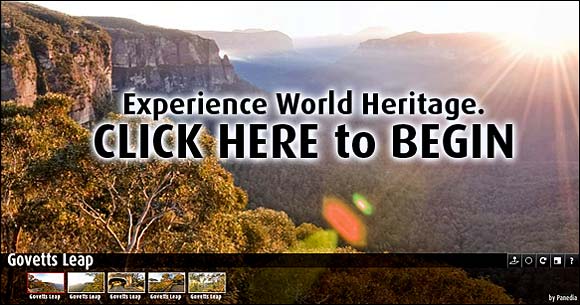 The Greater Blue Mountains World Heritage Area embraces over a million hectares of natural bushland extending from the Southern Highlands to the Hunter Valley. From Sydney's back fence, wild escarpments rise westward to the crest of the Great Dividing Range and the farmlands of the Central Tablelands. 
The World Heritage Area is made up of eight individual nature conservation reserves. These are Yengo, Wollemi, Gardens of Stone, Blue Mountains, Nattai, Kanangra-Boyd and Thirlmere Lakes national Parks together with the Jenolan Karst Conservation Reserve.
The creation of this integrated series of nature conservation reserves protecting the Greater Blue Mountains region represents one of Australia's Greatest conservation achievements.
Over a fifty year period from the 1930s to the 1990s, conservationist fought a series of battles against often daunting odds to protect the region's natural ecosystems from being exploited for their natural resources.

Today we face different conservation issues in the Great Blue Mountains. How to enjoy the magnificent legacy of the conservation victories, while at the same time ensuring future generations have the same opportunities to appreciate the region as we have, is a major challenge to us all.
You can play your part in this ongoing challenge to conserve the Great Blue Mountains by treading softly on your journey and following the guidelines and regulations applying in the national park areas.
(NSW Department of Environment, Climate Change and Water)
---
The stunning interactive panoramas we've produced to show the Greater Blue Mountains World Heritage area can also be used on your website, for FREE.
Take a look at the linked page to find the required code and conditions.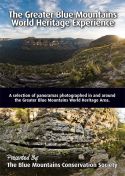 Interact with Panoramas featured on the DVD and placed over maps. Stand on the same spot the photographer stood.